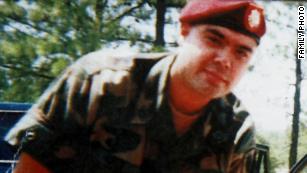 A US Army veteran who served two tours in Afghanistan says he didn't realize he'd been deported to Mexico until it was too late to turn back.
Speaking from Tijuana Monday, Miguel Perez told reporters that he's feeling well physically, but is "very confused."
Perez was escorted across the US-Mexico border from Texas and handed over to Mexican authorities Friday, ICE said in a statement. Perez says a truck took him to an airport in Indiana. He was then flown to Brownsville, Texas, ICE said.